Specializing exclusively in laser vision correction
Dr. Scott Hyver is the Owner and Medical Director of ScottHyver Visioncare
Dr. Hyver has been serving the laser vision correction needs of the Bay Area for more than 20 years, with offices in Daly City, Santa Clara and San Ramon. He specializes exclusively in Wavefront-Optimized "All Laser" LASIK, Contoura LASIK, SMILE vision correction, and Customized PRK. Dr. Hyver is extensively involved in all phases of your pre-operative care, from meeting with you at the consultation to analyzing your prescription and corneal imaging data to formulating your surgical plan. And of course, he personally performs all surgeries.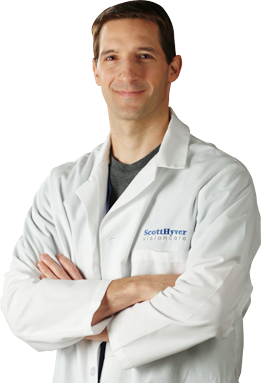 A Harvard MD and
fellowship-trained corneal
refractive surgeon
A Harvard MD and
fellowship-trained corneal
refractive surgeon
Dr. Hyver earned his Bachelor's Degree in Biochemistry from the University of California at San Diego, where he was class Valedictorian. He received his MD from Harvard Medical School, and then completed his Ophthalmology Residency Program at the California Pacific Medical Center in San Francisco. Dr. Hyver completed his fellowship in corneal refractive surgery at the Sinskey Eye Institute in Santa Monica, CA. He is board-certified by the American Board of Ophthalmology.
Dr. Hyver is also the eye doctor for the San Francisco 49ers
Dr. Hyver is also the eye doctor for the San Francisco 49ers
Dr. Hyver has served as the eye doctor and laser eye surgeon for the San Francisco 49ers football team since 2006. Our Santa Clara office is located just a few blocks from Levi's® Stadium and the team's training facilities. Some of Dr. Hyver's notable LASIK patients include team CEO Jed York, football Hall of Fame coach Bill Walsh and wide receiver Terrell Owens, and All-Pro left tackle Joe Staley (pictured) and linebacker Patrick Willis.
Putting his patients' safety first
Medically conservative by nature, Dr. Hyver puts the safety of his patients as his highest priority. That's why he's extensively involved in your pre-operative care, where safe and effective visual outcomes are born. For example, as a result of his conservative medical screening, about a quarter of our patients do not qualify for any form of laser vision correction, and of those who do, about 25% only qualify for PRK. Dr. Hyver also requires that prior to surgery, patients undergo a pre-operative dilated exam to ensure their eyes are healthy and sound. Neglecting this exam can put the patient at unnecessary medical risk, potentially compromising the patient's vision safety. While some surgeons may make this dilated exam optional, Dr. Hyver considers it an essential safety measure and thus the standard of care.
Schedule your
free consultation


with Dr. Scott Hyver at any
one of our three Bay Area offices.
To schedule your free consultation with Dr. Hyver, or if you have any questions, please complete the following: